Catholic Charities Cared!
On June 28, 2014 Pinellas Hope under the direction of Pam Long and Danielle Partnered with Mission Smiles for their first dental outreach. We appreciated serving the underserved with free dental care and left feeling so blessed for this opportunity. Thanks to the volunteers who live at Pinellas Hope for serving with such grace and a servant heart. A personal thanks to Emily Rabatin from the University of Pittsburgh Social Work Program who came to help prepare for our event. Read more …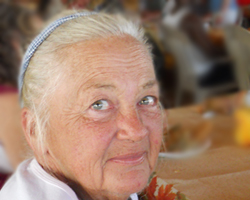 Norma is an 86 year old woman who has been a client for the past 18 months in the Catholic Charities Respite Program in Hernando County. In addition to Alzheimer's disease, Norma is legally blind, and a daughter from the North moved into her mother's home to care for her. The daughter's goal in enrolling her mother in the program was two-fold : socialization for her mother and respite for herself.
Norma is very sweet, and has become a favorite of the staff, volunteers and even some of the clients in the early stage of dementia. Since she cannot see, we assist her with the games, bingo and card games. She loves it when she does well with both as she has the most wonderful smile and look of satisfaction on her face.
While Norma's grown children are very dedicated to her, they are not able to provide her with the type of socialization she receives from the program. At the same time, it was very important that her daughter realized she needed dependable relief from her caregiver responsibilities in order to continue to provide good care for her mother. 
This is obviously a win-win situation for this family as Norma enjoys coming to the program twice a week, and her daughter has some much needed time for herself. Click here to learn more about the Catholic Charities Respite Program.